The Chewton Domain Society (CDS), an incorporated body representing its members, was registered in 1996 with an updated constitution under the Associations Incorporation Reform Act 2012
In 1995, the eleven allotments involving the Post Office, the Town Hall and the Park were consolidated into a single title by the then custodian, the Shire of Metcalfe.  Later the same year Metcalfe Shire and its assets were absorbed by the newly created Shire of Mount Alexander.  In April 1996, the new Shire Council put the Chewton Post Office on a list of assets for sale.  The townsfolk rallied to maintain local public ownership of the important and much loved local post office.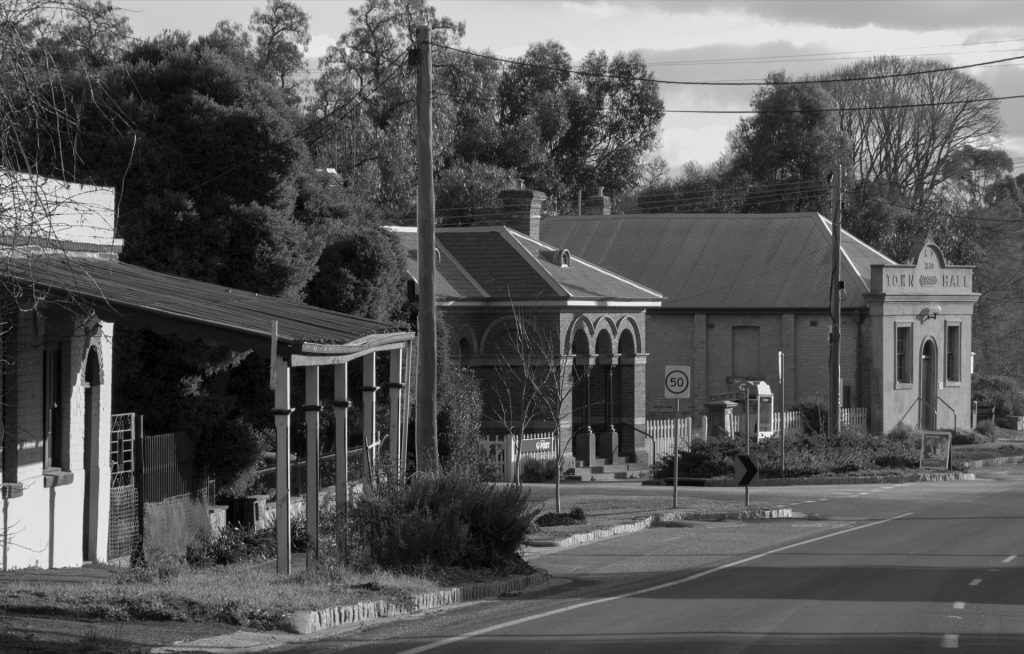 In response to the many expressions of community feeling, the Shire Commissioners offered the Post Office back to the people of Chewton, along with the Town Hall and Ellery Park.  A local committee was formed and held a community meeting in the Town Hall on November 24th 1996. That meeting adopted 'Chewton Township Domain' as the name for the precinct, and the 'Chewton Domain Society' was founded to act as its community ownership body.
The task of managing, preserving and improving these assets is now handled by the volunteers Chewton Domain Society Management Committee elected by CDS members at an Annual General Meeting.
The CDS:
manages the maintenance, development, usage and leasing arrangements of the buildings and grounds including

Ellery Park and its free community BBQ facilities and public toilet.

manages the People and Places Hhistoric Display in the Chewton Town Hall  open from 1 p.m. to 4 p.m. at weekends.

produces the monthly Chewton Chat that promotes Chewton and its district, circulates local news and provides an opportunity for local organizations and businesses to promote themselves and their activities.

manages the Chewton community website and Chewton.net Facebook page.

manages the annual Monster Meeting events, maintains the monstermeeting.net website  and Monster Meeting Facebook page..
You can join the CDS:
All interested people are welcomed and encouraged to become CDS members and become an integral part of our community.
Current annual membership is $10.
Or click here for the form…
CLICK HERE for CDS membership application/renewal form or contact Membership Coordinator, Glen Harrison – 0419 337 804.
Enquiries or expressions of interest regarding sub-committee participation are welcomed and can be made to any member of the Management Committee, or to the secretary.
The CDS can be contacted by:
Mail: P.O. Box 85 Chewton, 3451
Email: goldenpoint2@bigpond.com
Executive members:
President: Helen McGeachin  0402 085 025
Vice President: Judy Cobb 03 5472 5118
Secretary: Marie Jones 03 5472 2892
Treasurer: Kerry Bourke
Committee members:
John Ellis
Margot Ryan
Marion Landy
Pat Healy
Phillip Walker.
The CDS is committed to providing a child safe environment and being a Child Safe Organisation in accordance with the Victorian Child Safe Standards 2017.